The Christmas Ship Concert with Lee Murdock
6:30 pm - 7:30 pm
Event published by Michigan Maritime Museum
December 14, 2022
6:30pm – 7:30pm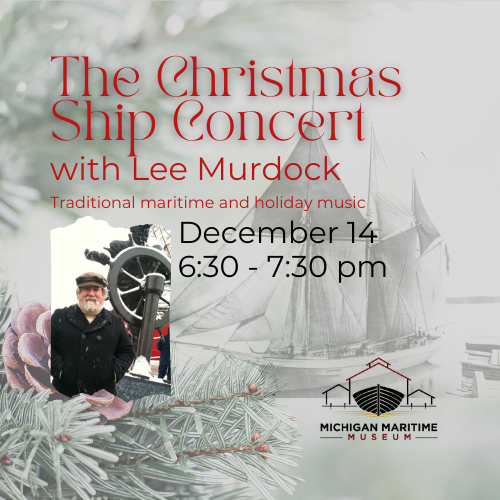 The Spirit of Holiday Music – Maritime Style!
Get into the holiday spirit with renowned Great Lakes folk singer Lee Murdock at the Maritime Heritage Center performing The Christmas Ship Concert with songs of Michigan history, maritime, and holiday music, including his original song, "The Christmas Ship." Broadly acknowledged as "the premier interpreter of songs and stories about the Great Lakes," Lee Murdock has a boundless body of music and stories about his home region combining traditional songs from the days of sail alongside some of his own musical compositions—all depicting some aspect of history and life on the Great Lakes. Join us in celebrating the season with a song!
This program is being supported in part through the generosity of the Niels Wells Grant Fund.
Doors open at 6:00 pm.
Tickets: $10 for members/$15 for non-members
Admission: $10 for museum members; $15 for non-members
Sponsored by: Niels Wells Grant Fund