Rockapella's Holiday Show at The Acorn
8:00 pm - 10:00 pm
Event published by The Acorn
December 03, 2022
8:00pm – 10:00pm
107 Generations Drive
Three Oaks
49128
(directions)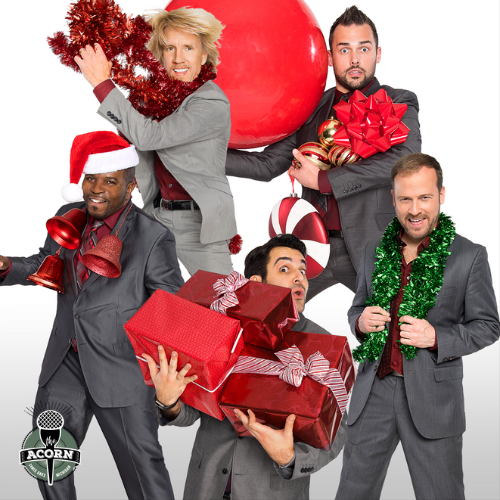 Rockapella brings their holiday magic to The Acorn! As one of the progenitors of the astonishing full-band sound of "contemporary" a cappella, Rockapella has shown every audience the raw power of pure vocal talent and originality. Since the early '90's when they first achieved national television fame on PBS's Where In The World Is Carmen Sandiego? they've toured the globe and provided a funky powerful soundtrack to several generations of vocal music fans while keeping it all fresh along the way.
"The best musical instrument of all is the human voice – if you've seen Rockapella you know that's the truth." – USA Today
They've become one of the world's most sophisticated, lasting, and imitated vocal groups today. You'd be hard-pressed to find a more influential one out there in this era of network television Acappella shows like NBC's The Sing-Off, movies like Pitch Perfect, and innumerable college vocal groups that own the corner of cool on campuses everywhere.
Admission: $50 GA / $85 Reserved
Contact: Acorn Box Office Team