Lake Breeze Music Festival
6:00 pm - 11:00 pm
Event published by Vision Entertainment Group
Shadowland Pavilion 101 Broad Street
St. Joseph
49085
(directions)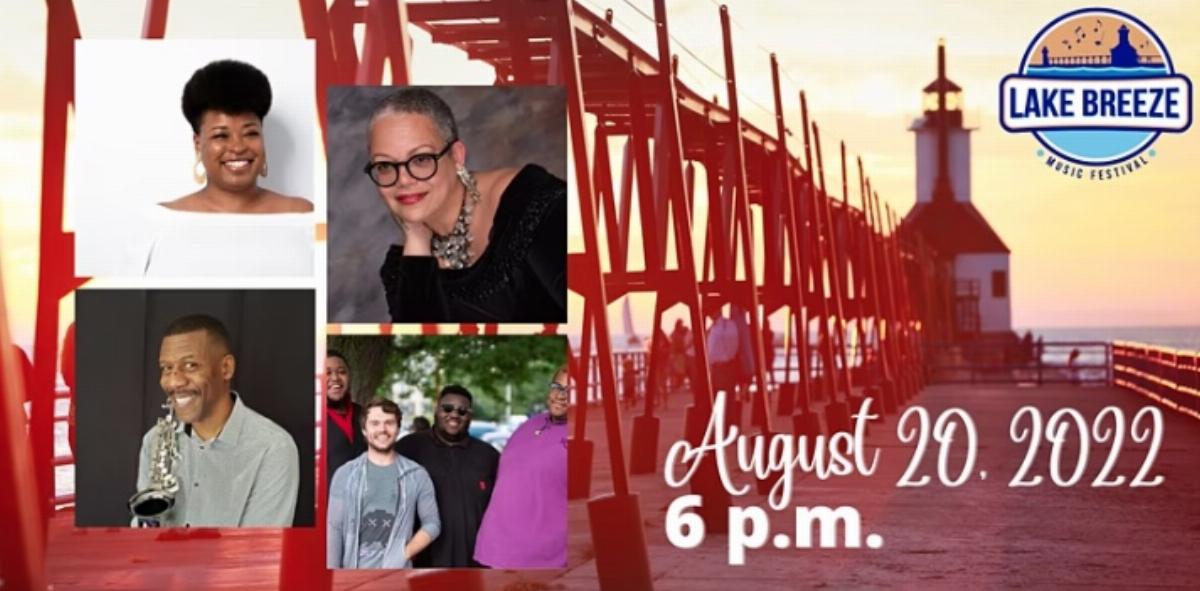 THE LAKE BREEZE MUSIC FESTIVAL…Is your invitation to your next destination. Located on the sandy shores of Lake Michigan with a backdrop of breath-taking sunsets, this music festival is a taste of the best. It is one evening of rich and diverse musical talent accented with food and drink. We blend the traditional with the new wave.
THE ARTISTS & LINE-UP
The Andrew Fisher Quartet (6:00pm -6:45pm)-is a neo-soul jazz group from Michigan. They specialize in bending traditional genres such as soul, funk, R&B, Motown and more while using the language of improvisation and jazz. Since being formed in 2015, AFQ showcases their unique takes on well know songs and catalogs and now currently are performing their original music with the release of their EP in 2019.
Carmen Stokes (7:00pm – 7:45pm)– An Indiana girl arriving on the Chicago scene in the 1990's debut album, Sexy Feelin. Carmen Stokes established herself as an in-demand artist in the Chicago area, her soulful and sultry sounds builds on the legends of jazz, including her musical mentor Mr. Ramsey Lewis.
Meagan McNeal (8:00pm – 9:00pm)– is a powerhouse singer/songwriter and recording artist from Chicago. Well-versed in the genres of soul, jazz, and R&B she is known for her diverse range and soulful voice. Meagan graced the stage of NBC's "The Voice" in 2017 and has been soring ever since. Influenced by groundbreaking artists such as Anita Baker, Ella Fitzgerald, Chaka Khan, and Aretha Franklin-Meagan is truly a voice to hear!
Tim Cunningham ( 9:20- 10:30pm)-For decades the words "smooth , sultry, cool & funky" have been used to describe Tim's high energy and emotional stage show as his sexy blend of smooth jazz and soulful R&B connects with people of all ages, races and genres of music. This unique and versatile style has earned Tim the pleasure of opening for such jazz greats as Dave Koz, Norman Brown, Brian Culbertson and George Benson. On the flip side, his bumpin' R&B flavor has on occasion paired him with Earth Wind & Fire, Cameo, Boyz II Men, Patti Labelle, Frankie Beverly, Jeffrey Osborne, and the late Luther Vandross.
Food vendors will be on site.
Patrons entering the facility are subject to having their image and/or likeness reproduced for promotional and/or publicity purposes in Festival photography and/or Web casts by the Festival, contractor or partner of the Festival.
Restrooms and handicap portable restrooms are available on the festival grounds. Guests are encouraged to bring their own hand sanitizer.
ALL SALES ARE FINAL, NO REFUNDS, NO EXCHANGES
NO COOLERS OR CARRY-INS ALLOWED AT EVENTS
Admission: $25-35