Faculty Recital featuring Don Savoie presented by LMC Visual & Performing Arts Department
3:00 pm
Event published by The Mendel Center at Lake Michigan College
2755 E Napier Avenue
Benton Harbor
49022
(directions)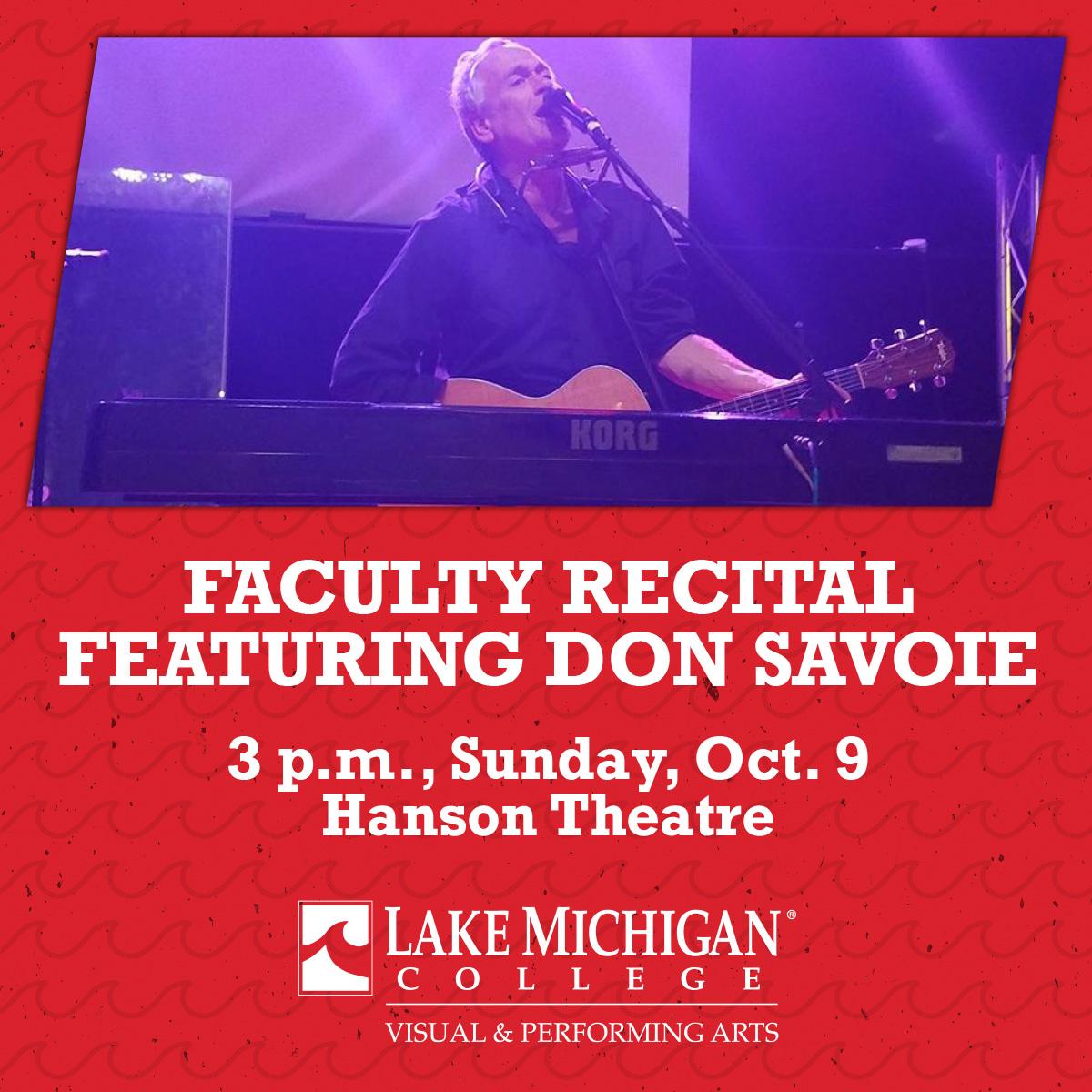 Don Savoie is an original blue-eyed soul artist, singer-songwriter, and multi-instrumentalist. During the performance, he will play guitar, piano, and harmonica. He will also collaborate on a few selections with current LMC vocal students Shay Beeson and Aurelia Davis. The set list includes several of Savoie's original songs plus rock classics including Linda Ronstadt's "Blue Bayou" featuring Davis on lead vocals, The Everly Brothers hit "When Will I Be Loved," on which Savoie will duet with Davis, and The Beatles "Oh, Darling" featuring Beeson on vocals.
Savoie began his career in southwest Michigan and continued at the University of Michigan as part of the vibrant Detroit-Ann Arbor blues and rock scene from the mid-1970s through the '80s. He toured Europe in 1979 and 1982 and played at the Montreux Festival. During his career, he has worked with Joe Cocker, Stevie Ray Vaughan, Jackson Brown, Pattie Smith, Weather Report, John Mayall, Koko Taylor, Ramsey Lewis, Son Seals, and Luther Allison. Savoie served as an adjunct professor at the University of Notre Dame from 2001-2015. He is part-time faculty at LMC teaching guitar, electric guitar, and electric bass, and directing the Pop/Rock Ensemble. Additionally, he plays shows throughout southwest Michigan, northern Indiana, and Chicago, and will be releasing a new CD, "King Exile," on Spotify.
Admission is free. For more information, visit lakemichigancollege.edu/arts, email mmccaffrey@lakemichigancollege.edu, or call 269-927-8876.
Admission: Free
Contact: The Mendel Center Box Office